Shangrilah Alpaca Shop
We have a range of Australian Alpacas For Sale at our Shangrilah Alpaca Stud.
Please browse the categories below, contact us for further details.
Back to all shop categories
Females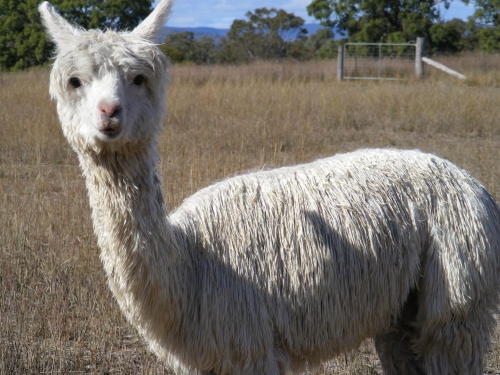 Shangrilah Babette SOLD
IAR:
155662
Colour:
solid white
DOB:
April 6th 2009
Sire:
GCSA Trademark
Dam:
Birrong La Boheme
Fleece Stats:
FD: 23.1 SD: 4.4 CF 93.4 (2013 stats - 4th fleece)
Price:
$1,210
Description:
SOLD Babette is a good quality, fine fleeced BC1 suri female. She still demonstrates independant pencil locking of a standard not always found in the repeat fleeces of early crosses. Her fleece is also lustrous and still has a very soft handle. Babettes first fleece stats were FD 18.1, SD 3.75 and CF 99.05.Pictured in 2nd fleece.
Babette is now being sold as a 3:1 package with her female cria and remated. See our packages page for more details on Babette and her daughter Belle.
Pictured in 2nd fleece.
SOLD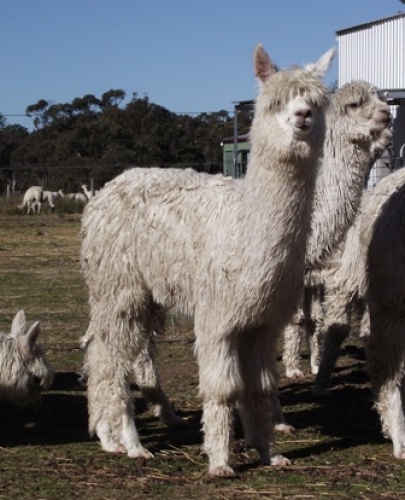 Shangrilah Carina
IAR:
193814
Colour:
solid white
DOB:
November 28th 2013
Sire:
Birrong Knight in White Satin
Dam:
Shangrilah Alinga
Fleece Stats:
1st fleece 2014 FD 19.3, SD 4.6, CV 23.9, CF 97.9
Price:
$1210 inc gst
Description:
Carina is a pretty young BC2 suri female who is growing out very well with solid bone. She has very good conformation and tremendous coverage right down to her feet.Her fleece is fine and lustrous and her sire has improved her density to that of her dam.We think she has the goods to produce good quality cria with the right male in future, we would choose a male that will further enhance her density and locking structure.Her genetics include Allegro and Senator on her sires side and Trademark and Amador on her dams side.
Pictured nearly 8 months old. Will be mated to our premier male Surilana Donaldo spring 2015.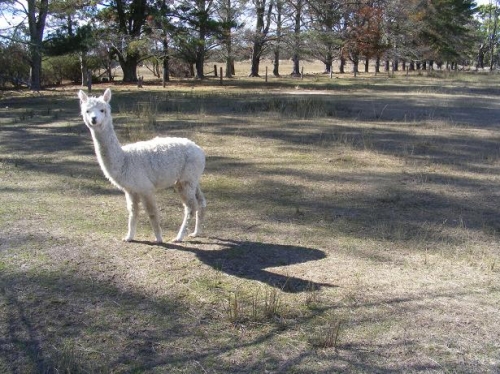 Shangrilah Dianella
IAR:
155661
Colour:
Solid White
DOB:
March 11th 2009
Sire:
GCSA Trademark
Dam:
Suricaya Carmel
Fleece Stats:
1st fleece:micron 17.3, S.D.4.3, C.V. 24.7, C.F.99
Price:
$1100
Description:
Dianella is friendly and pretty, BC1 suri. She still has a fine fleece with superb handle on her 5th fleece. Her dam had a micron of 24.6 at 10 years of age and her sire passed on, as typical, his fineness and lustre.Dianaellas 4th fleece stats were FD 23.5, SD 5 and CF 90,9
Dianella is now discounted from her original sale price.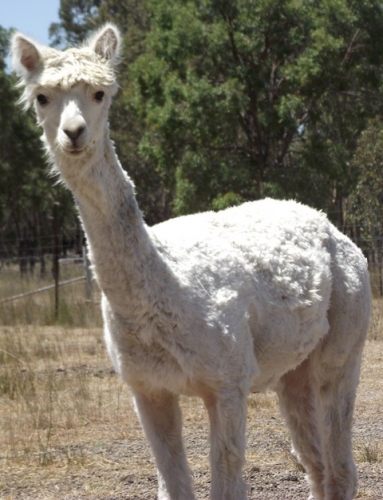 Shangrilah Emmanuelle
IAR:
193807
Colour:
solid white
DOB:
December 24th 2012
Sire:
Cedar House Moonflute
Dam:
Birrong La Boheme
Fleece Stats:
1st fleece (2013) FD 25.3, SD 6 CF 83.6
Price:
$1100
Description:
Emnanuelle's sire is full brother to the now sadly deceased Cedar House Sensational. She has inherited Moonflutes beautiful sound, robust and strong conformation and bone and is growing out to be a big girl. Although she is not particularly fine she has reasonable density and lustre. She would make a good breeding female for a starter suri herd looking for some good genetics and frame.
Emmanuelle is now spitting off to Cedar House Excalibar 2, our Senator son, it is hoped this mating will bring down the micron in the cria.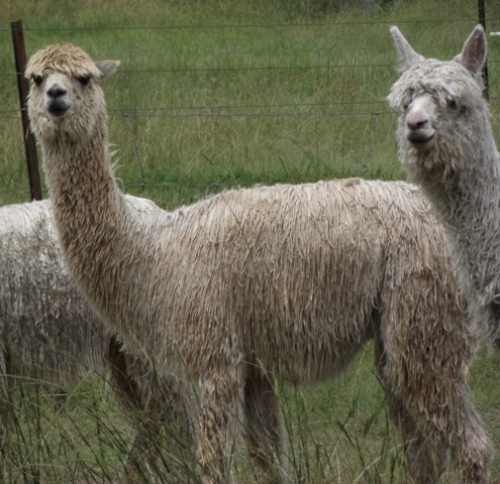 Shangrilah Kinks
IAR:
211526
Colour:
solid medium fawn
Sire:
Alcazar Domingo S8
Dam:
Alcazar Pascalina S8
Fleece Stats:
1st fleece 2014 FD 16.7, SD 3.9, CV 23.6, CF 100
Price:
$1980 inc gst
Description:
We are selling kinks as she is not the desired white colour we want in our herd, we also have her full sister, Julia, who is white and will remain in our herd. Kinks is a pure suri and has some prestigous genetics behind her - her sire Domingo is an Icalon son and her dam a Senator grand daughter who also has Amador in her background.Kinks was born with excellent lustre and her first fleece was ultrafine. She will be ready for her first mating in spring 2015.