Shangrilah Alpacas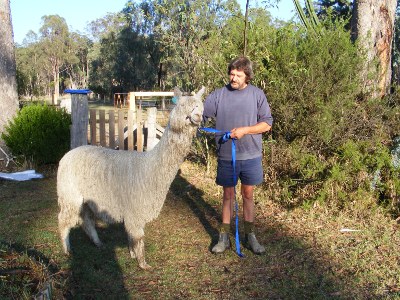 We are devoted to breeding white suri and our aim is to produce animals with superb conformity and classic suri appearance that have fine, uniform and lustrous fleeces .We have owned alpacas since 2004 and established our breeding goals in early 2006 and purchased our first white suri soon after. Since then we have grown our herd numbers to well over 50 animals, purchasing animals along the way from a diverse range of respected genetic lines. We now have suris ranging from F1's right through to pure suri and have the first of any Shangrilah bred white suri females available for sale.
Although we are devoted to breeding white suri and aim to proportionately grow our pure suri numbers, we also have a small number of coloured suri crosses born each year thanks to our few coloured huacaya, who we mate to our solid white suri males.
Over the past 4 years our goals have included building our female herd numbers to a desired level before commencing sales and to establish and reconfigure our land and infrastructure to be suitable as an alpaca stud. Now we have reached our initial goals we are moving into the next phase of our breeding and stud plan, namely to fine tune our breeding in order to further move toward our overall breeding aims, focusing on the traits that we need to introduce into our herd for continual improvement toward high quality suri fleeces. In addition to continual improvement of our infrastructure, land and facilities.
A great addition to our herd as we move into this next phase was the exciting opportunity to purchase a half share mid 2009 in Surilana Donaldo. We are proud to co-own Donaldo with Angela and Ian Preuss of Surilana Alpacas. Donaldo was the National Reserve Champion Adult male in 2009 on his second fleece and also achieved numerous other awards as a junior, intermediate and adult. We chose Donaldo as he has the qualities we needed most injected into our herd to further improve our fleece quality, i.e. density and uniformity, but he also has excellent conformity, stylish consistent locking across his body, head and neck and legs, and a magnificent suri appearance with a beautiful classic suri head. He was also very well developed at under 2 years of age and he has gone on to successfully, as proved by ultrasound, impregnate his first female on his second mating at just over 2 years. His sire is the well known multiple ribbon winner Surilana Odin and his grandsire the extremely highly respected, Surilana Icalon, whose genetics are highly sought after.
We are eagerly awaiting the arrival of Donaldo's first progeny in spring/ summer 2010.
We have now, more recently, have had another most exciting opportunity and recently purchased, in partnership with Fiona and Ian Vanderbeek of Birrong Suri Alpacas, the well known and respected Alcazar Suri Stud. We are tremendously enthusiastic and optimistic about the future this partnership holds and are eagerly anticipating the next phase of the Alcazar Suri Stud, to further consolidate the achievements of the former proprietors, Pierre Baychelier and Brenton Spher, in Keeping the Suri Pure. To find out more about Alcazar Suri Stud, visit our News and Info page.
Our Farm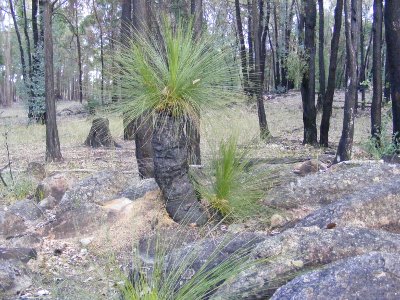 Shangrilah is not only our stud name but also the name of our 300 acre farm, situated on the North Western side of the New England Tablelands, in Northern N.S.W. The closest town, to the north of us is Inverell. Shangrilah is our little piece of heaven/ utopia on earth and a perfect place, at least we think so, to breed animals that, after all, were traditionally seen as a gift from the Incan gods in their native Peru. Hence why we thought our farm name was also the perfect name for our alpaca stud.
Our land is on granite country and was basically just a bush block when we came here, approximately 21 years ago, it had previously been mostly cleared for farming but after some 25 odd years of not being used, had started re-establishing itself as bush land; however we have been gradually subdividing it into paddocks and taming the wilderness, but will keep some of it as natural bush also, so as to enjoy as our own private bush park and to indulge our other shared interest in Australian flora and fauna . The land features some magnificent granite boulder outcrops and also has some trees that have been dated back to earlier than white settlement in Australia. Granite country is not generally viewed as good farming country, however we find the alpacas thrive on the native grasses and grazing alpaca enables us to have a much higher carrying capacity on this type of soil than we could have with other livestock. We are gradually improving our pastures though to correct mineral imbalances and deficiencies, along with introducing some non native pasture species, particularly focusing on winter growing varieties to supplement our summer growing native varieties.
Our climate is one of extremes, particularly in the winter months, where we can enjoy days well into the twenties, which are followed by frosty nights well below zero. The altitude on our land ranges from the high 700's to 875 metres, so both our climate and altitude are ideal for alpaca breeding. Our rainfall averages about 850ml and falls mainly in the spring and summer months.
Who we are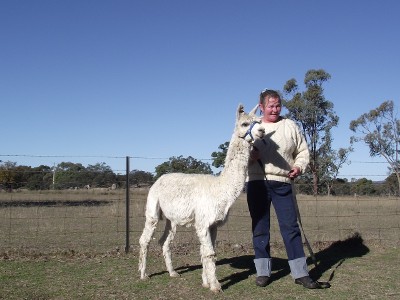 We are David Cooper and Deborah Smith. We met in Sydney and soon discovered we both shared the dream of one day owning and running our own farm. Dave grew up in the Yorkshire countryside in England and always hated city life. Deb is Sydney born and bred but spent part of her upbringing in the Blue Mountains, which was then more rural, and was blessed with parents who also shared a love of the countryside and animals, so many trips were made out of the city which grew her love of animals, nature and the countryside. We have both had professional backgrounds and remain employed full time off farm, so we have a very busy lifestyle juggling work and the farm. Dave tends to concentrate on the development of our land, referring to himself as the farm manager, whilst Deb is the primary livestock manager and has gathered a wealth of information to share from other breeders (with much appreciation) and attendance at various conferences and workshops etc. One of the things we love most about running an alpaca stud is our continued learning journey, much of which we gain from the animals themselves.
We have quite a menagerie on our farm with 2 dogs, assorted poultry and birds, 2 ponies, a few sheep and a small herd of cattle. However our primary focus is our alpaca stud. We have been running the farm as if it were 2 separate farms, one for alpaca, one for the other stock, so as to work toward gaining Q alpaca status and now have some paddocks assessed and in the programme. Although our ponies are used to assist with worm control in our alpaca paddocks. We are also members of the AGE programme which we use to objectively measure our herd traits and to assist in our breeding decisions.
Although we love all alpaca, we chose suri as we felt there was more scope for newcomers to make a mark with suri at the time we entered the industry, we liked the idea of breeding and contributing to growing the numbers of an animal that is considerably rare; and white specifically because we believe fleece needs to be the primary focus of the industry overall, and we were, and remain so, excited about the prospect of possibly being able to contribute to the development of a such an industry; we still believe the prospects for a sustainable future commercial suri fleece industry are positive, albeit with a lot of work still to be done to truly reach that point. And who could resist being able to see the sight of beautiful flowing, lustrous suri fleeces on these gorgeous animals on a daily basis!!
Welcome
Welcome to our web site and we hope you enjoy looking around. We are very open to any feedback about our site and only too happy to answer any questions about our stud and its animals and alpaca generally, so please don't hesitate to contact us if you would like to know more. Visits to our farm to view the alpacas and learn more about them are always welcome by appointment.
Visit our Photo Gallery